THE INSTITUITION
The Academy not only provides intensive training but also all-round developmental opportunities with facilities for formal education and vocational training. The fully residential programme includes special features such as boarding and lodging, monthly stipend, playing kits, summer and winter clothing, ceremonial kits, comprehensive medical care, education, a group insurance scheme and other benefits.
Equipped to match international standards, the Academy, built on 25000 sq. ft. amidst green surroundings, accommodates 40 trainees. The institute-cum-residential complex rests in a spacious area in the heart of the city. The aim: to provide an ideal ambience for promising footballers to develop their potential to the fullest.
INDUCTION
The coaches are sent for various junior tournaments and also to various states where selection camps are organised and potential cadets short-listed. The short listed cadets are called to TFA for screening. Final selection is made based on parameters set by the academy.
Cadets are required to strictly adhere to the rules set by the academy. All cadets are required to maintain harmony and ensure congenial environment in the academy.
OUR PHILOSOPHY
Jamshedpur Football Club and Tata Football Academy strives to create and nurture a valuable soccer learning experience. To achieve this goal, we make every effort to ensure that well-educated coaches develop the skills, fitness, teamwork and sportsmanship and to foster and perpetuate these qualities at all levels of their soccer growth. We endeavor to empower our players with a life-long passion and love for the game of football.
MISSION
To provide a professional, positive, safe and enjoyable environment that is conducive to the development of participants from grassroots to high performance for the community.
The academy exists to provide the highest levels of quality soccer training for the players and to enhance their social/emotional physical health and Decision-Making ability in a positive and safe environment.
We focus on and teach our players the following areas:
Technique
Ball mastery
Football intelligence (decision making)
Tactics
Speed
Co-ordination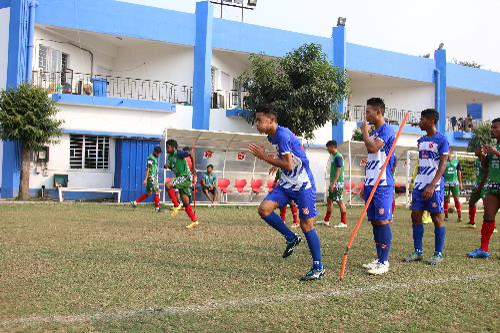 ACADEMY MODULE
Duration – Four years residential training course with systematic pyramid load of training. Junior group 14 – 16 years & Senior group 16 – 18 years.
Wide range of basic competitive techniques and tactics.
Key factors in defensive, midfield; and attacking at set play.
Handling opponent with and without ball.
Training in Technical, Tactical and Physical aspects.
Developmental training of Mental/ Psychological aspects like:

Personal attribute
Courage and risk-taking
Creativity, visualization
Holding together under pressure
Controlling your destiny
ALUMNI
The Tata Football Academy has been making dreams of aspiring young footballers come true since its inception. They nurture and train thousands of children every year for professional football with the aim to bring out some of the best talents, nationally and internationally.
Click here to know the ex-cadets who have outshined in their performance, graduated from this prestigious academy only to step up and represent India on local and global level, from the first batch back in 1992 to the eleventh batch in the year 2014.